How do I create a new domain template in Plesk?
The following article explains how to create a new domain template through the Plesk Control Panel. This will create a domain template that can be used to create new websites using the same format for each website.
To create a new Domain Template, please follow these steps:
1. Open a web browser and connect to your Plesk Control Panel located at https://ip address:8443.
2. Login as the Administrator using the information sent to you in your setup email.
3. Click Domains from the General menu.
4. Click Domain Templates under the Tools section.
5. Click Add New Domain Template under the Tools section.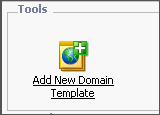 6. Enter a name for the Template.
Template Name: enter the name for the template
Mail: set options for mail messages sent to nonexistent users and choose whether to enable webmail
Limits: set the limits for the template or check unlimited to have no limit set
Enable Log Rotation: enable and set logging options
Preferences: choose to enable mailing lists and set a log file storage limit
Physical Hosting: set default preferences for physical hosting templates

7. Click Ok.